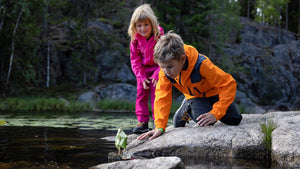 For the little adventurers
At Halti, we want to bring people closer to nature and be part of all kinds of adventures. From our collection, you can find timeless, high-quality products also for the little adventurers of the family.
BREATHE THE OUTDOORS.
Outdoor clothing for adventures big and small
Our kid's weatherproof outdoor jackets and outdoor pants protect from rain, wind, and cold when protection and warmth are needed the most, and lighter styles go with everyday life all year round.
The characteristics of the products in Halti's children's collection are designed so that it is comfortable to move, play and explore all the great and small wonders of nature. Did you know that the pockets of children's clothes are carefully designed to hold small but important treasures that little adventurers may collect along nature trails?
KID'S SHOES
Comfortable shoes are key to the best adventures
Whether the direction is the winding paths of the nearby forest, your favorite playground, your own yard, or a weekday at school or kindergarten, we have children's footwear for all needs.
Halti's DrymaxX shoes are waterproof and you can find different options for outdoor activities all year round, even when the conditions are rainy or snowy. For outdoor activities in the winter, our collection includes waterproof boots and winter shoes with a warm lining, so that the little toes don't get cold while building snowmen or sledding. You can also find versatile, lighter children's shoes with different shaft lengths and in different colors, perfect options for spring, summer and autumn use.
Get ready for outdoor adventures and explore kid's jackets, kid's outdoor pants, and kid's shoes. We've got you covered from head to toe so you & your little ones can enjoy the outdoors in any weather. Shop the kid's outdoor collection today, we'll see you outdoors!