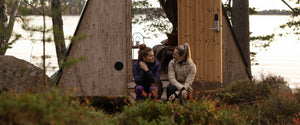 Halti is a Finnish outdoor brand with over 40 years of experience. We exist to help people find their own peak moments – to experience the balance, calmness, and harmony that come with connecting to the natural world - we exist to help everyone find their own way to enjoy outdoor activities.
NORDIC BY NATURE.
---
Halti's new outdoor clothing and shoes. Get ready for the new season!
Whether you're an avid hiker, a runner, skier, or simply enjoy spending time outdoors, we have something for you. Our selection of men's and women's outdoor clothing and shoes has everything you need to tackle your next adventure.
The Halti New Arrivals collection features top-quality outdoor gear for all your favorite activities, from hiking and camping to running and cycling. We've got everything from technical jackets and pants to comfortable shoes, all designed to keep you comfortable and protected in any environment.
In addition to our outdoor clothing and shoes, we also have a range of outdoor gear to help you make the most of your time outside. From backpacks to camping gear and accessories, we've got everything you need for your next outing.
Check out our new arrivals and get ready to take on the great outdoors!