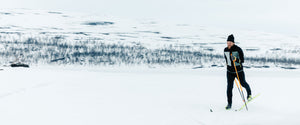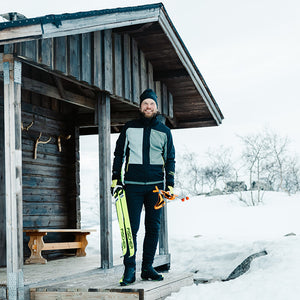 Men's cross-country ski clothing
Halti cross-country ski clothes for men
Find your new favorite cross-country ski gear from Halti!
We here at Halti, have a long experience of working with professional athletes to create great pieces for nordic skiers. Halti men's ski clothes combine quality and style, but also excellent technical features. In Halti's selection, you will find suitable ski clothing, whether you are a demanding and goal-oriented skier, a laid-back skier or anything in between. Nordic ski clothes are also very versatile - in addition to skiing, they can also be used for jogging and other active outdoor activities.
Halti's versatile selection offers cross-country jackets and pants with different features. In addition to classic XCT clothing, there are also lightly padded warmer ski jackets and pants for lower heart rate exercise and colder weather. For all skiers we recommend layering: add and remove layers when necessary. The function of the ski suit is ensured by the base layer that is chosen according to the activity. Choose either cooler technical base layer or warm merino wool base layer. You can get extra warmth by adding padded ski shorts and a vest. Complete the outfit with your favorite ski beanie or band and ski gloves.
All Halti cross-country ski clothes are designed and produced according to Halti's Think Ahead sustainability program respecting both our nature and people. All Halti products are PFC-free. We think ahead!
Order men's high-quality nordic ski clothing now from Halti's online store and hit the ski trails!
FAQs about Halti men's Nordic ski collection
That's a good question!
First, we recommend to think, what kind of skier you are. If you're more demanding active user, you migh want to consider Momentum jacket and pants, that are the most breathable cross-country clothes in Haltis current collection. If you rather consider yourself as more laid-back kind of user, you might appreciate features that bring you comfort and warmth. Most of those low active users love cross-country ski jacket with a hood for example.
Another thing we recommend to think when choosing clothes for cross-counry, is weather conditions. If you're going to be using the clothes in freezing conditions, you would consider clothes that have lightly padded areas in them. Take a look in our Tripla II jacket and pants.
Please read more about choosing a ski set in our guide.
There are a lot of weatherproof materials used in Haltis cross-country ski clothes. Although they can't be called as waterproof clothes, as they are not completely made of waterproof materials. Cross-country ski clothes are usually a combination of technical breathable materials and wind- and waterpfoor material.

Find the breathability and waterproof values ​​in the material information of each product.
Yes! In general, all cross-country ski clothes are windproof. However, as cross-country ski clothes are almost always combination of different materials, can be parts that aren't windproof. Those parts are usually the breathable lycra materials.
Absolutely! Cross-country ski clothes are versitile and can be used for many other sports and activities too. Many people use them for winter time jogging for example.
It's because you will want to have as small wind resistance as possible when skiing.
As a material cotton is not breathable enough to use in sports. When the technical materials dry very quickly, cotton stays wet and cold. The point breathable outer layer disappears, when using cotton as a base layer, because cotton will not let heat pass and get out.
From natural fibers, merino wool works very good for sports. Merino wool is breathable and warm at the same time.
Shop technical base layers and merino wool base layers online.