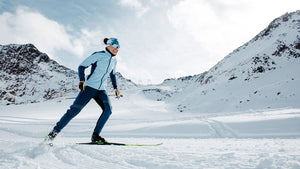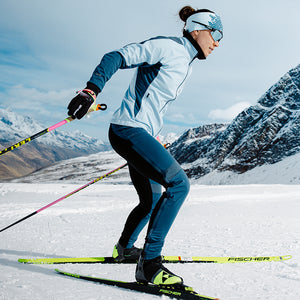 Men's cross-country ski pants
---
Men's cross country ski pants for cross-country skiing. Cross country skiing is a highly aerobic activity so you should wear the right cross country ski pants for your tour. We recommend choosing breathable tight pants with wind protection on the front. When choosing the base layer avoid bulk when layering. We recommend having a light base layer and a midweight base layer to give more warmth.
We at Halti has long experience of cross country ski clothing products, we have worked together with professional athletics and we are an official clothing supplier for the Finnish National Cross Country Team. Either you are a classic or skate skier, we have cross-country ski trousers for you.
See also Men's pants and Men's cross-country ski clothing.
Choose the right clothing for your cross-country/Nordic ski needs based on the intensity of the workout and the weather conditions. It is important that you are able to move in a comfortable way and that you will stay warm. For active workouts and active skiing we recommend choosing breathable materials. Read the guide to choosing cross-country ski clothing.
From Halti's cross-country ski collection you will find clothing for women, men, and kids. Explore the cross-country ski jackets, pants, and accessories. Selected cross-country ski styles are also available for women in Plus Sizes.
Our delivery time depends on the region. The standard delivery time in Europe is 7-14 working days. All Halti orders are shipped from our warehouse in Finland. Our logistics partner for international orders from halti.com is Xtreme Global.
You have the right to return your order within 28 days of ordering. We will refund the order once the products are returned to our warehouse and the refund may take up to 21 days. Read the full instructions for returns here.
Halt's customer service helps our customers with all kinds issues with of orders, deliveries, and products on weekdays between 9:00 and 15:00 (UTC+3). You can contact us by email at info@halti.fi 
Halti is a Finnish outdoor brand with over 40 years of experience. People are seeking new ways to balance their busy and stressful lives. Halti exists to help people find their own peak moments – to experience the balance, calmness, and harmony that come with connecting to the natural world. We exist to help everyone find their own way to enjoy outdoor activities. Read more about Halti here.