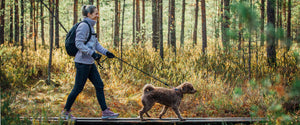 TIPS FOR AUTUMN FOLIAGE TRIPS
Finland is know for its fantastic hiking destinations, and one of the best times to visit them is the autumn. In this blog post, you will find tips and inspiration for planning your trip to see the autumn foliage. Choose a destination, equip yourself well and go on an autumn adventure in nature. Remember to capture the beautiful moments in photos and allow yourself to get fully immersed in the charm of nature.
Choose the right time
Timing is key when planning a trip to see the autumn foliage. Usually, the best time to go is from mid-September to the beginning of October: this is the time when tree leaves are glowing in beautiful shades of red, orange and yellow. The autumn foliage phenomenon starts in the north and
proceeds from Lapland towards the south coast.
The ground-level autumn foliage in Lapland differs from the autumn foliage in the rest of Finland in that its timing varies every year depending on the weather conditions. In ground-level autumn foliage, the
colours of autumn are seen in bogs, dwarf shrubs and dwarf birches. Differences in elevation and variation in terrain mean that ground-level autumn foliage is at its best in different locations at different times. The autumn colours look especially spectacular in sunshine and at sunset, when the light brings the
colours out even more.
When planning a trip to see the autumn foliage, it's a good idea to keep an eye on local websites to get the latest information on the best timing. The Autumn Foliage Live service is one tool that can help you choose a time.
Head to duckboard trails and national parks
The national parks of Southern Finland offer amazing options for autumn foliage trips. Duckboard trails over bogs provide excellent opportunities
for admiring the autumn foliage. You can find great duckboard trails in, for example, the following national parks:
Torronsuo National Park: The Kiljamo parking area is the starting point for
circular trails of various lengths that also include duckboard sections. Some
of the trails are accessible.
Leivonmäki National Park: The Kirveslammen Kierros Trail runs almost entirely on duckboards. Along the trail, there is also a birdwatching tower that offers a spectacular view of the bog.
Teijo National Park: You can get from the Matildanjärvi parking area all the
way to the Teerisaari lean-to on duckboards.
In Lapland, you can rent a mountain bike or an e-fatbike and head to a fell trail: 
Weather-appropriate gear
Autumn weather can be unpredictable, so it's a good idea to prepare for changing conditions. Wear layers and bring waterproof clothing with you. Good hiking shoes are worth their weight in gold on longer hikes.
Waterproof and breathable jacket: The most important feature of a hiking jacket is
protecting its wearer regardless of the weather. Find tips for choosing the right shell jacket in our guide.
Wool base layer: As a naturally antibacterial material, Merino wool is easy to care for and does not tend to absorb smells. Use these tips to choose a base layer to wear next to the skin.
Shoes for various uses: This article has tips for choosing suitable shoes, care and washing instructions and information about the shoes' technology: www.halti.fi/pages/kenkien-hoito-ja-pesu-kenkien-huolto-opas
Photography opportunities
The autumn offers excellent opportunities for
capturing beautiful landscapes and vivid colours in photos. Practise your landscape photography skills with these tips:
Find interesting angles: try out different shot sizes and compositions to create visually interesting photos. Crouch, climb high, zoom close and try the
panorama function in your smartphone camera.
Take advantage of reflections: the still surface of water offers an opportunity to try photographing reflections. Wait for calm weather and find lakes, ponds or rivers that reflect autumn colours.
Switch between wide angle and macro: Wide
angle is good for landscape photography, while macro helps you spot details. Take close-up shots individual leaves or plants with backlighting, which will bring out the structure of the leaf.
Adjust the photo's colours and white balance: Try out the various camera modes on your camera or phone and see how they affect the colours in the photos. Find the white balance settings and test how they affect
the colours in your photos.
Text and pictures: Susanna "Suski" Oksanen