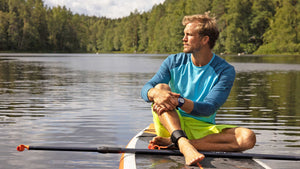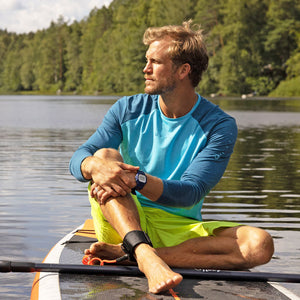 Light and breathable men's shorts
Summer is the best time to enjoy and spend time outdoors - whether it's relaxing leisure activities, active workouts, or hiking. The warmer weather of summer also requires lighter clothing. Halti's collection offers versatile men's shorts for different summer activities. Choose your favorite and head out!
Shorts for versatile outdoor activities
Our beloved Pallas series Pallas Lite products are favorites for summer days! Pallas Lite products are extremely breathable, flexible, and lightweight. Thanks to their lightness, breathability, and flexibility, Pallas Lite shorts and Pallas Lite capris are ideal for warm summer days. Their material also achieves UPF 40+ protection with a weaving technique. Pair Pallas Lite shorts or capris with a lightweight men's Pallas Lite jacket.
Shorts for hiking
Summer is hiking season! With Halti's Hiker series hiking clothes, summer hiking trips are comfortable. Hiker Lite shorts combine durable canvas material with lightweight, breathable, and flexible stretch material. The Hiker series also includes Hiker Lite Zip-Off pants, which can be shortened to shorts if needed. Check out the entire Hiker series here.
Shorts for active athletes
Halti's Active Sport collection is designed for those who spend their time in active sports and exercise. The multisport products of the Active Sport collection are designed to meet the needs of active athletes. From Halti's selection, you can also find men's shorts for training and cycling. Carefully considered materials, cuts, and details allow the athlete to use their range of motion functionally and comfortably throughout their performance.
Shorts for active daily life and leisure
Technical materials are extremely comfortable and suitable for everyday use and busy lifestyles. Especially in summer, lightweight and breathable materials are the key to dressing comfortably. Halti's men's shorts range is suitable for different everyday situations: for work, city outings, dog walks, and for taking to the cottage or on a trip. Travel men's shorts are perfect travel pants - they can be packed into their own pocket. Kallio by Halti's Rundi men's shorts are perfect for the active urban summer style.
Dress for summer - from head to toe
Summer is too short to wear impractical clothes. Invest in materials and fit and enjoy the summer to the fullest. Pair shorts with a technical t-shirt or a temperature-adjusting merino wool shirt suitable for the situation. On warm summer days, sandals or other lightweight footwear are an important part of dressing. Remember to also protect your head with a hat or cap.