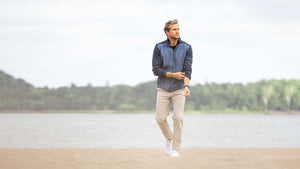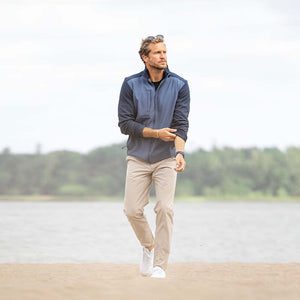 TIMELESS STYLES FOR GOLF AND EVERYDAY ADVENTURES
---
Shop timeless clothes for golf
See you on the greens! Shop golf clothes for men and women from Halti. Designed for a comfortable fit and made with light, X-stretch materials so you can focus on your swing. Explore the technical polo shirts, jackets, chino pants, shorts, and skorts, and enjoy the golf season in style! 
Our DrymaxX styles are windproof and waterproof to protect you from changing weather conditions on the course. 

Nowadays golf etiquette on what to wear is more free, so you have lots of options on what to wear while golfing. A traditional go-to golf outfit is a polo shirt combined with chino-style pants or shorts.
It's most important to wear comfortable clothes that don't resist the swing, and in which you can move around in for several hours.
We recommend dressing in layers and having options in your bag.
Our windproof and waterproof DrymaxX jackets and pants will protect you in harsh conditions, and with mid-layers, you can adjust the warmth of your outfit.
A polo t-shirt is a good start, and you can have a mid-layer for warmth and a waterproof & windproof DrymaxX jacket that can be worn when needed - many of our DrymaxX jackets pack down into small spaces! Waterproof shell pants are also easy to add on top of shorts or chinos when the rain comes down pouring.
If you're unsure, you can always check with the caddie master if the golf course has a specific etiquette on how to dress. If there is none, wear comfortable clothes that you can move in, many kinds of sports clothes and activewear are great for golf!
You can start off with for example running shoes or outdoor shoes with a good grip on the outsole, especially waterproof outdoor shoes are a good choice at the beginning and end of the golf season when the course might be more wet.
If you play actively, we recommend golf shoes that you can purchase from golf or sports stores. Golf shoes have a specifically good grip on the golf course, and they have golf-specific features.
Of course! The common golf style is great for many different outdoor activities and everyday life. The timeless golf styles are even great for a casual day at the office!