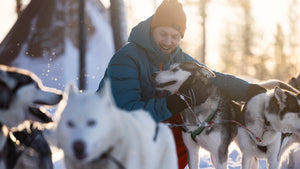 CHRISTMAS GIFT IDEAS FROM HATLI
The holiday season is around the corner and the magic of Christmas time fills our minds. Stop to enjoy the moment, fill your kitchen with the smell of freshly baked gingerbread and enjoy a cozy evening in candlelight. The holiday season is a time to take a break from hectic everyday life and relax with the ones you love. During the holidays we also love to remember our favorite people with gifts.
In this guide, we have gathered our best tips for men's gifts.
HIT THE SLOPES IN STYLE
For the skier
Ski season is here and what could be a better gift for an enthusiastic skier than new ski wear?
Base layers are also super important for a comfortable ski outfit, and they are a classic Christmas gift for men.
CROSS-COUNTRY SKIERS WILL LOVE
For the ski tracks
Our high-quality cross-country ski clothing can be used for skiing and other winter sports, and will definitely bring happiness to the recipient! Use on the tracks going full speed, on a calm Sunday ski trip, or even for winter running and other sports outdoors.
fat biking, ski touring, hiking
For those who love exploring the outdoors
Enjoying the outdoors is so much more fun with the right gear. Gift your favorite men with outdoor clothing and head outdoors together! Our collection includes styles that can be used for many different activities outdoors.
Explore the high-quality styles for adventures nearby and far away, around the year and in any weather.
ALWAYS COLD?
Soft & warm layers to keep him warm
For someone who enjoys soft and cozy materials and a fuzzy extra layer (even if they don't admit it), our mid-layers are a perfect gift! Explore our fleece & other light jackets, mid layers, shirts, and hoodies with different features so you can find the perfect gift for your favorite guy.
Our Huippu Re-Down jacket is one of our bestsellers. It's a great insulation layer or can be used by itself, definitely a must-have around the year!
Midlayers make a great soft package for under the Christmas tree.
KEEP THOSE TOES WARM
Find the perfect pair
Winter shoes are super important so his feet don't get cold outdoors. Warm, waterproof shoes with a good outsole are essential in cold conditions. Pick the right grip for outdoor adventures and they can enjoy the winter in the snow, slush, or icy streets!
From our guide, you'll figure out the differences between the different outsoles.
ACCESSORIES ARE EVERYTHING
Small gifts with a big meaning
Our accessories are an easy gift idea for the holiday season. Warm beanies, gloves and tube scarves come in small packages but with them he will stay warm on even the coldest days outdoors.
Our Universal merino tube scarf is timeless, warm, and useful around the year.
THE CLASSIC GIFT EVERYONE LOVES
When you just can't decide
The Halti Gift Card is a great gift for your loved one, friend, family member, or anyone you want to remember with a holiday present, birthday gift, or just a special surprise! Leave the decision-making to someone else and get the gift delivered right away to your email.
THE MAGICAL HOLIDAY SEASON IS HERE