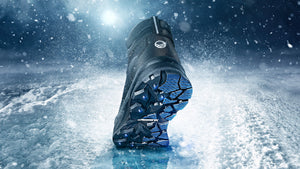 SPIKE SHOES OR FRICTION SOLE SHOES?
A good grip for the slippery winter
As the winter gets closer many are wondering what type of winter shoes would be best for the icy streets, and cold season. During the most slippery winter conditions, to avoid falling or slipping, we need shoes with a great grip on the outsoles.
Halti has designed and produced spike shoes for many years and nowadays we also have friction sole shoes - also called traction shoes - in our collection. Halti spike shoes have the GripmaxX Spike outsole and friction shoes have two outsole options: Michelin Ice Grip and Vibram Arctic Grip. In the friction sole shoes, the outsole is designed for good traction on snow, ice, and wet tarmac - the same kind of design may be familiar from winter tires for cars.
What's the difference between these winter shoes? In the table below we've gathered the key features so you can compare the options and pick the best option for your needs.
Spike shoes
Halti's spike shoes with GripmaxX Spike soles are suitable for outdoor use on icy or slippery surfaces. The studs embedded in the bottom are made of wear-resistant stainless steel and stay firmly in place even during active use. Studded spike shoes are designed for winter use, so they are always waterproof and warm.
Michelin®
Together with Michelin, Halti has developed friction sole shoes based on Ice Control technology, which are an alternative to spike shoes. Michelin's patented outsole friction rubber compound is familiar from car friction tires and it has been tested to give the best grip on various surfaces, without studs. You can walk with Halti's Michelin Ice Grip friction sole shoes all year round, and it also provides traction on wet asphalt. Designed for winter use, these shoes are also waterproof and warm.
Arctic Grip
Friction sole shoes with the Vibram Arctic Grip outsoles are also a great option for spike shoes. The sole is made of rubber, designed specifically for cold conditions. The Vibram Arctic Grip works kind of like sandpaper, sticking to the surface of the ice with a surface that is rougher than regular rubber. There is also one thermochromic piece on the bottom, which changes color to blue when the temperature drops below 0 °C, thus warning of possible ice.
Spike shoes
Spike shoes have small spikes in the outsoles of the shoe. The spikes provide a great grip on an icy surface and in snow. Spike shoes are a good choice if you spend a lot of time outdoors in terrain where there may be slippery spots or if you want to enjoy walking on snowy ice. Studded shoes are at their best when moving in nature.
It is good to note that spike shoes easily leave marks on the floor, so you cannot walk with them indoors. For spike shoes, we recommend protective non-slip covers, which can be placed on the bottom of the shoes to protect the spikes and the floor if necessary.
Friction sole shoes
The bottom of the friction or grip-sole shoes has a friction-creating structure that provides a good grip on slippery conditions. A good feature of friction shoes is that they also hold in wet conditions when the winter frosts change to the spring sun and the ice starts to partially melt. Like spikes, friction shoes do not leave marks on the floor, so they are a good choice for general winter shoes that you can use not only for outdoor activities but also for walking to, say, the store. 
Friction sole shoes can also be called friction shoes, traction shoes, grip sole shoes.
Waterproof and warm
Halti's spike and friction shoes all have a sock-like waterproof DrymaxX® membrane. The DrymaxX® membrane keeps snow, slush and water away from the foot, which helps to keep feet warm - when the foot gets wet, it also gets cold easily. If you are out in snowy terrain, we recommend mid high shoes to keep the snow out of the shoe. If you're out in a more urban environment and on plowed streets, the sahft of the shoe can be lower. The advantage of low-top shoes is their better agility when walking or running.
Please note that studded shoes or friction shoes do not completely prevent slipping, so always be careful when moving on slippery surfaces!