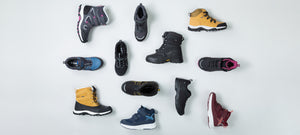 FIND THE RIGHT SHOES FOR KID'S
Ease and Safety for the Little Adventurers
Halti's kid's shoe collection this autumn includes both new arrivals and continuing classics. The main factors in Halti's kid's shoes are always ease and safety. The shoes are designed to be easily and quickly put on, so that the little adventurers are ready when it it's time to run on their exploits.
Choose the style that suits your taste: either a shoe with elastic laces, a velcro model, or one with a zipper. All of them are easy to put on and comfortable to wear.
Check out our fantastic new addition, the Course mid-cut sneaker. It's as lightweight and flexible as a sneaker, but waterproof. It can take your kid surprisingly far into the autumn, and it doesn't feel too stiff after summer shoes. Our classics and best-selling kid's shoes are Vesper and Reiss. Vesper has elastic laces, and the Reiss boot has a velcro strap closure. Thanks
to its warm lining, Reiss is the warmest among our models and is particularly suitable for younger children who don't run or move around as much yet.
Designer's tips
"Coldness is rarely a problem, especially for older children, as they are quite active. For wet weather, I definitely recommend DrymaxX® shoes. But I remind you that with Drymaxx® shoes, or any other membrane shoe, it's not recommended to wear wool socks. Wool socks absorb moisture more effectively than the membrane can evaporate it, so the moisture stays in the sock and makes the toes feel cold," advises Halti's shoe product manager, Hanna Tuomanen.
A reminder for parents: children's feet grow at different rates, and sizes vary between different shoe brands. The key to a successful purchase is to measure the foot properly: have the child stand on a piece of paper with their full weight, toes straight. Trace the foot, take
its length measurement (straight line from the heel's center to the middle toe), and add at least 10 mm, or even 15 mm for winter shoes. There should be room for the toes to move.
We've put up a table to help you compare Halti's kid's shoes. Choose the most suitable shoe for your little adventurer!