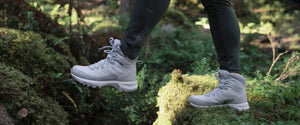 GUIDE: CHOOSE THE RIGHT SHOES
Tips for finding just the right Halti shoes
Halti shoes for different activities
Halti designs and manufactures a wide range of shoes for outdoor activities, training, and leisure time. The shoes are designed for different conditions and divided into categories according to the purpose of use. In this article, you will find tips for choosing just the right shoes for your purpose of use. Halti shoes are designed in Finland.
SHOP OUR FOOTWEAR COLLECTIONS
HOW TO FIND THE RIGHT SIZE?
The shoe size marking is always indicative and refers to the length of the sole of the shoe. However, the fit is also affected by the width of the last and the circumference, which can vary between shoe models. The model and materials also affect the fit. Shoes are always made according to the selected standard and few people have standard feet. Halti's own last is relatively spacious, but we also use different lasts to offer options for different feet.
It is important to measure your foot correctly and choose the most suitable size according to the size chart. Shoes should always have a 5mm clearance at the toe, and this is good to consider when measuring the foot. The foot is measured by stepping evenly on the paper with the whole weight, drawing marks on the tips of the toe and heel, and measuring the straight line between the marks. The dimensions in
the shoe table are indicative, as there may be slight differences between the last and the models. The maximum differences are only +/- 2 mm.
Halti's shoes are made according to the international EU size standard, and the variability in fit is mostly caused by the width, extent, sole and thickness of the materials. To find a suitable fit, you can search for shoes with "regular", "generous" and "slim" fit. All are within the limits of normal dimensions and in accordance with the general standard, but for example the generous model is a little more spacious at the head and the slim model is a little narrower. The fit can be improved by changing the removable insole to a special insole.