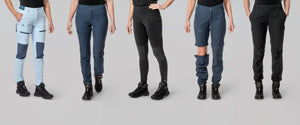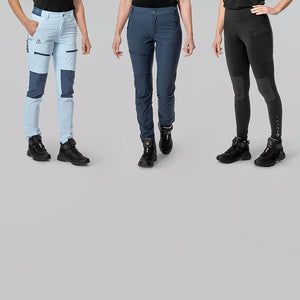 Dirt trails, paved sidewalks, or a bit of both
From morning hikes to afternoon coffee dates to evening hangouts around the campfire. Find the right style and comfort for your day, no matter where it takes you. Inspired by our Think Ahead sustainability programme, this series features bluesign®-certified and partly recycled materials.
Pallas Minimal Warm pants
Urban streets or a hike? You don't have to change your pants if you haven't decided yet. These timeless and minimalist pants include only the most important details that work for both occasions. Constructed from strong, dense material with a brushed lining for warmth, they feature a high waist and shaped knees for an optimal fit. Additionally, multiple zippered pockets allow you to carry your essentials along your journey.
Made from partly recycled materials and treated with PFC-free water resistance, these pants minimize their impact on the environment.
Pallas III Warm X-stretch Pants
These pants are a warmer version of the well-known Pallas X-stretch pants. Just as comfy and easy to move in, but warmer to handle the colder days of Autumn to Spring. Crafted with X-stretch and ripstop material, and a brushed-back fabric on the inside, these make the only multifunctional outdoor pants you'll need. They also feature reflective prints, multiple zippered pockets, and belt loops for practicality and convenience.
Pallas II X-Stretch Pants
From spring to autumn, these are the perfect comfy outdoor pants. Reinforced with durable Cordura and flexible X-Stretch, they're both breathable and easy to move in.

The elastic waist features belt loops for a precise fit. And plenty of pockets keep your belongings close to hand. Plus, reflective detailing means good visibility at night.

WOMEN'S | PLUS SIZE | MEN'S
Pallas II Trekking Tights
Feeling a more fitted look? Our updated trekking tights are now high waisted with two handy pockets. The elastic waistband helps with that perfect fit.

Two different soft X-stretch fabrics provide premium flexibility and breathability. And a UPF 30 rating means you get extra protection outdoors.

WOMEN'S
Pallas Jogger Lite Pants
How about a casual hike? Or a coffee run? A shaped knee and elastic cuff make for a relaxed fit that's expertly paired with technical material for joggers that go from the trails to the streets no problem.

X-Stretch provides comfort and a PFC-free water-repellent treatment holds off rain. A zippered thigh pocket is the perfect place to stash essentials.

WOMEN'S | MEN'S
Pallas Minimal Thermal Anorak
A new, cute, and cozy anorak joined
our Pallas series. It's great for early autumn outdoor activities and works as a layer when the days get colder. Minimal, in this case, means less all sorts of details, less easily breakable parts, less everything. But - more warmth, fluffy lightness and modern fit. You will look beautiful in this.
Pallas Minimal Warm Jacket
With a relaxed and timeless fit and a minimalistic design, this is a modern outdoor jacket that performs exceptionally well in hiking, trekking, and everyday use. With its longer design, the jacket offers extra protection, and the side zips make it easy to use. The hood and cuffs are also adjustable, allowing you to customize the jacket to suit your needs. The PFC-free WR-treatment ensures water resistance when the weather conditions vary.
Pallas Warm X-Stretch Jacket
This jacket is a warmer version of the Pallas X-stretch jacket. It blends two distinct X-stretch materials known for their flexibility, windproofness, moisture resistance, and high breathability. The soft-brushed interior provides added warmth. This comfortable outdoor jacket is perfect for climate-conscious outdoor lovers: it has surplus material from textile industry and bluesign® certified fabric.
Pallas III Warm Hybrid Jacket
Warm, Hybrid – the name says it all. "Hybrid" stands for a combination: Waterproof DrymaxX® in the hood, front, and shoulders where the rain hits first - and breathable, flexible stretch material everywhere else where you need it the most. "Warm" stands for a soft-brushed interior for added warmth. And "III" means the latest and improved version of all time. Quite a handy jacket for various outdoor activities in colder weather, don't you think?"
Pallas II X-Stretch Jacket
The latest version of our famous outdoor Pallas jacket. With its two X-Stretch materials, it's superbly breathable and wind-resistant.

Get even more adaptability with an adjustable hood. And durable ripstop shoulders are great for under backpacks.

Top it all off with elastic cuffs and reflective detailing.

WOMEN'S | PLUS SIZE | MEN'S
Pallas Jogger Lite Jacket
For a more casual vibe. This youthful, sporty look is backed by technical materials. A flexible, breathable option for the city or the great outdoors.

A hood and PFC-free water-repellent treatment keep precipitation at bay. A UPF 50+ rating keeps you safe during the day. Reflective detailing means more visibility at night, too.

WOMEN'S | MEN'S
Pallas X-Stretch Vest
Need a light vest for summer? This one is made for warm days and chilly nights. With X-Stretch material, it's wind resistant but breathable enough to keep you cool.

Tailored at the waist with a one-hand drawstring in the bottom hem for easy silhouette adjustments.

Plus reflective detailing ensures your style will be seen by all.

WOMEN'S | MEN'S
Pallas Lite X-Stretch Jacket
Our lightweight version of the Pallas jacket. This hooded windbreaker easily packs away into its own pocket. The perfect layer to reach for when you're on the go.

This jacket performs best in moderate weather and comes in vibrant colors for spring and summer. A UPF 40 rating means it can stand up to the sun no problem.

WOMEN'S | PLUS SIZE | MEN'S
Pallas Layer Jacket
This layering jacket gives great warmth-to-weight ratio. Featuring Active Dry material for enhanced moisture wicking, it's perfect for workouts, warmups, or a walk to the shops.

Wear it on its own or as a layer for added insulation. The high collar adds extra protection and a full zip means you can adjust on the go.

WOMEN'S | MEN'S