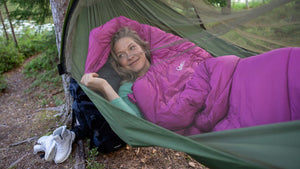 Guide: Wash & care instructions for sleeping bags
Sleeping outdoors is a great way to relax, and camping season is around the corner. Whether you prefer camping during warm summer days or in harsh winter conditions, the sleeping bag is an important part of the experience.
In collaboration with Miele, we've gathered wash and care instructions and tips for sleeping bags, so your sleeping bag stays in mint condition for upcoming adventures. Our common goal with Miele is durable and long-lasting products that will bring joy to users for years to come.
If you're still looking for the right sleeping bag, read our guide for choosing a sleeping bag and explore the sleeping bags in our collection!
SLEEPING BAGS
WASH & CARE INSTRUCTIONS
Always follow the washing instructions.

Wash in lukewarm water separately from other laundry.

Ventilate the sleeping bag well after each night you sleep in it.

It is recommended to wash the sleeping bag with a washing program designed for down products. At the beginning of the fluff program of Miele washing machines, an air removal phase is performed, which reduces possible foaming of the detergent. If the washing machine does not have a separate down program, you should choose a program that uses as much water as possible. You can also use the Water Plus additional function of Miele washing machines.

Liquid detergents and detergents specially designed for down are recommended for down products. We recommend the DownCare down detergent, which contains coconut oil, which helps maintain the elasticity and breathability of down products and prevents clumping. Remember to always use the recommended dosage.

After washing, it is good to dry the sleeping bag in a tumble dryer, if the product's Washing Instructions allow it. When drying in the tumble dryer, select the timed drying function, as this way you can monitor the drying of the product and adjust the drying time if necessary. If tumble drying is not possible, the sleeping bag should be dried in as airy a place as possible.
More from the Halti World blog: View all