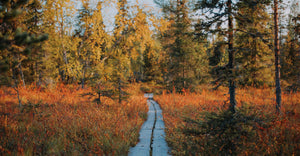 Welcome to Experience 'Ruska' with Halti and Visit Finland
The word 'Ruska' originates from the Inari Sámi word 'ruške' and the North Sámi word 'ruški'. It also resonates with 'ruskea', which means brown in Finnish. However, brown is just one color in the ruska palette – during September and October, Finland bursts into a tapestry of yellow, red, and orange. To uncover the prime time and places to witness the ruska phenomenon at its finest, explore the AI-powered Autumn Foliage Live operated by Visit Finland.
Get ready to paint your own ruska story!
Explore the colour galore with
Autumn Foliage Live
Start planning your leaf-peeping trip now and experience the season's most breathtaking colours with the help of Autumn Foliage Live. This AI-based map is fueled by historical data and weather cameras around Finland and is updated weekly.
See how the foliage progresses and when it hits its peak in different areas.
VIEW MORE
Best tips for an Autumn Foliage trip
Finland is known for its beautiful destinations, and one of the best times to explore them is autumn. In this blog post you will find tips and inspiration for planning a fall foliage trip.
Choose a suitable destination, equip yourself well and go on an adventure in autumn nature. Remember to capture the beautiful moments in photos and let yourself be completely immersed in the magic of nature.