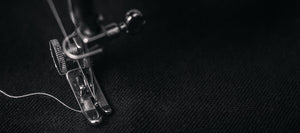 CARE INSTRUCTIONS
To extend the product life-cycle, it is important to wash and maintain your items in accordance with our care instructions.
The laundry tags and hang tags attached to our products tell you how to use and maintain our products and give them a long life. Informative QR codes are also being introduced to give the subsequent users more information and care instructions, even after hang tags have been removed. Our goal is to reduce the number of tags and instead add QR codes to our products.
In sum, we recommend that you wash waterproof clothes to prevent any dirt and stains from reducing their properties. Clean clothes breathe and last longer. Waterproof clothes should also be treated with a water repellent to extend the lifecycle even further.
Instructions on how to reduce the environmental impact while caring for your clothes:

A simple way to cut down your water usage is to wash your clothes less. Spot clean small stains, then wash on a gentle cycle when required. Sometimes it is enough that clothes are kept outside in the fresh air or left in the freezer overnight.
Wash synthetic and natural fibers separately. Studies have shown that in this way, microfibers adhere better to the fabric and reduce the release of microplastics.
Avoid delicate wash cycles and half-full loads, as larger volumes of water loosens mircoplastics more easily.

Under Tips and maintenance on our website, you can find care instructions for our products.
SAVE MONEY AND NATURE, HAVE YOUR CLOTHES FIXED!
The most common reasons for having products fixed include a damaged DrymaxX® membrane, a damaged waterproof membrane, trousers need to be shortened, a zipper needs to be replaced or a hole in a down jacket needs to be patched.
PAY IT FORWARD - RECYCLE
We believe that we can extend the lifecycle of clothes, already during the design phase, and have an impact on what will happen to clothing and gear at the end of their lifecycle. We warmly recommend that you use our outdoor clothing and gear for as long as possible, fix them if they are damaged and pass them on to the next user. Our shops accept used and undamaged Halti clothing and gear to give them a new life.