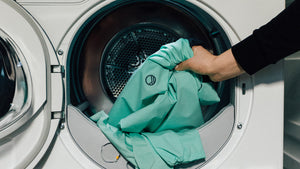 TAKE CARE OF YOUR SPORTS GEAR
Care & washing instructions for technical materials and sports clothing
Technical sports clothes are in active use
and often we're sweating while using them. It's important to take care of these
training partners well so that they'll bring joy for a long time. After each
use when sweating, we recommend a light rinse with just water for items like
t-shirts, running tights, or technical clothes for skiing or hiking. If they're
not rinsed after use, leave them in an airy space or outside to dry properly
from the sweat. If not rinsed or dried a smell may build up and after it really
lingers, it's hard to remove from the material even with a tougher wash.
There are special laundry detergents and
fabric softeners available for technical sports clothing. These detergents and
softeners contain substances that neutralize sweat. Clothes for different
active sports often contain elastane in the materials and by choosing the right
detergent for the wash you can avoid excessive wear of the fabric and elastic
fibers while still getting a clean result.
Checklist
• Rinse with water after use
• Wash with a detergent made for sports clothing
• If needed, repair small tears with a needle and thread or a fabric patch

A sustainable outfit is one that is well
taken care of and used for a long time. When taken care of well, some items may
even be possible to pass on to the next user. From the Halti collection, you'll
find technical clothes with Stormwall, X-Stretch, and Active Dry materials. Our
clothes are designed for active life and different sports, from indoor sports
to trail running and much more. Find your favorite styles for different sports
and activities: multisport, frisbee golf, cross-country skiing, skiing, running,
and hiking.