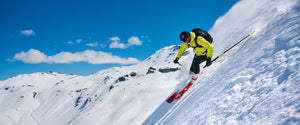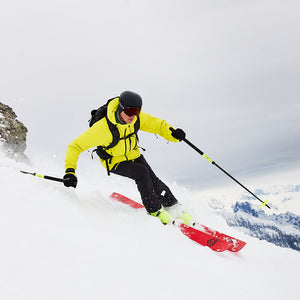 Halti skiwear for men and women
We got you covered for your day on the slopes!
Explore our collection of skiwear including ski jackets, ski pants and accessories for women, men and kids. Halti comes from Finland and we have decades of experience of the Nordic winter and winter sports. Our collection includes styles for the most demanding and professional skiers as well as options for those who enjoy an occasional ski trip now and then. 
A windproof and waterproof ski jacket is an essential part of the ski outfit you'll love to wear. A great ski jacket is comfortable to wear, will keep you warm and dry, include essential features like pockets, zippers and vents and of course, it will look awesome! Ski jackets can also be used as a sporty winter jacket in everyday use. For cold weather choose an insulated jacket and when it's warmer a shell jacket. Add warmth under a shell jacket with warm base layer shirts and mid layer jackets. 
Ski pants should feel comfortable so you can enjoy your day skiing. Halti's ski pants are available in different styles for women and men. Selected ski pants have suspenders included. Read the product description for more information. Finish your ski style with ski accessories and you're ready to head out there! Our tube scarf is a small but super useful accessory that can be used in many ways, and it is small enough so you can have one even in you pocket - the merino wool tube scarf is one of our favorites.  

Halti's premium designed ski jackets, ski pants, mid layers, and beanies are made for all winter activities for men and women. Enjoy your day at slopes with Halti's technical water and windproof gear that has been tested with the alpine skiers. Our ski clothes are made for you who value high quality and a timeless and stylish Scandinavian look and design. Halti's ski wear and snow clothes are designed and produced according to our Think ahead- sustainability program that takes in consider environmental and social responsibility. 
Halti has a quite wide range of different type of ski wear. In general, all Halti's ski jackets and pants are wind- and waterproof, but there are some exceptions. You'll find specified material information on each product.
Yes! Only high-quality, breathable and technical materials are used in Halt skiwear. However, to ensure the breathability of the outer garment, it is recommended to use under- and mid-layer fabrics suitable for outdoor use.

However, it is important to note that each user experiences breathability differently. What is suitable for one person is hot for another. This is why knowing your own body and how you use it is important when choosing equipment.
Our new ski touring collection offers the Alpine and Adrenaline products, that doesn't have any wadding in them. Compared to other skiwear, these products are considerably lighter and cooler, making them particularly suitable for more active outdoor activities. The user gets warmth by adding warmer layers under the outer garments, when needed.

The difference between Alpine and Adrenaline products is that Alpine products are waterproof shell garments, while Adrenaline products are softshell-type X-stretch garments.
The most important everyday care advice is to dry and air your skiwear well after each use. This allows the moisture in the jacket to dry out and not stick to the garment. It is also a good idea to remove visible dirt as soon as possible to prevent it from sticking.

We recommend washing your skiwear mid-season or at least at the end of the season before storage. When washing, follow the washing instructions on the product's own wash sheet.

We recommend drying wadding-filled skiwear in a tumble dryer, if permitted by the product's washing instructions. If the washing instructions prohibit tumble drying, it is recommended to dry the garment in the most airy place possible, either hanging on a clothes tree or horizontally on a drying rack.
Our delivery time depends on the region. The standard delivery time in Europe is 7-14 working days. All Halti orders are shipped from our warehouse in Finland. Our logistics partner for international orders from halti.com is Xtreme Global.
You have the right to return your order within 28 days of ordering. We will refund the order once the products are returned to our warehouse and the refund may take up to 21 days. Read the full instructions for returns here.
Halt's customer service helps our customers with all kinds issues with of orders, deliveries, and products on weekdays between 9:00 and 15:00 (UTC+3). You can contact us by email at info@halti.fi 
Halti is a Finnish outdoor brand with over 40 years of experience. People are seeking new ways to balance their busy and stressful lives. Halti exists to help people find their own peak moments – to experience the balance, calmness, and harmony that come with connecting to the natural world. We exist to help everyone find their own way to enjoy outdoor activities. Read more about Halti here.