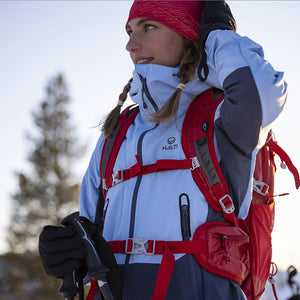 SOFTSHELL JACKETS & PANTS
COMFORTABLE MATERIALS FOR YOUR DAY OUTDOORS
Softshell Jackets & Pants
---
In outdoor clothing Softshell means a material with a soft outer surface. Softshell-material is soft, flexible and breathable, a great option for different outdoor activities. We recommend the multipurpose softshell jackets and softshell pants for all kinds of activities and sports in dry weather conditions. Softshell material is durable and  and can be used for different purposes from calm walks to even extreme sports.
Softshell materials are mostly windproof or at least wind resistant. Some of the softshell materials are also water-resistant or may have a water-repellent treatment on the surface, which makes the softshell product moderately weather-resistant in relation to its breathability. More detailed material information, including possible waterproofness values, can be found in the material information of each product.
Nowadays, there are also many so-called hybrid clothes that combine both breathable and flexible softshell material and waterproof material. In this case, for example, the waterproof parts of the jacket are located in the upper body which often are the first in contact with rain. The softshell material located in the lower body and under the arms lets the heat produced by the body out. Halti's collection offers a wide selection of different softshell jackets and pants for both women and men. We also offer softshell clothing in women's plus sizes!
Softshell is a material widely used in outdoor clothing, which is especially known for its excellent breathability and flexibility. The softshell material is perfectly suited for various activities, from jogging to skiing and from hiking trails to urban environments. There are different types of softshell materials and different materials are chosen for different products according to their main purpose of use.
Usually softshell clothes are windproof or at least wind resistant. Check the material information of the product for specific features!
X-stretch is Halti's own softshell-like material, which has gained great popularity through the products in the Pallas collection. X-Stretch is a very breathable and flexible material that is suitable even for extreme sports. The material repels wind and moisture well, while also breathing excellently. The surface fabric of the material is tightly woven and the inside can vary from brushed to smooth, depending on the purpose of use.
Stormwall® is a softshell material with a windproof and very water-repellent or even waterproof membrane combined with a dense moisture-repellent surface fabric. The inner surface can vary from a brushed fleece-like surface to smooth. The result is a breathable, soft, and flexible material, the products made with Stormwall® material are suitable for active use. In addition to clothing, the Stormwall® membrane is also widely used in gloves and hats from the winter collection.
We definitely recommend breathable and flexible softshell clothing (for example products from the Pallas series) as the main clothing for a hiking trip. Hiking is much more comfortable when the clothes allow your range of motion and allow body moisture to move out of the clothing.

However, we do not recommend that you go on a long trip without waterproof clothing. Although the softshell material is mostly very weatherproof, they are not completely waterproof. In case of unexpected rain, you should have waterproof clothing with you so that you don't get wet and freeze.
Just like the performance of a shell garment, the performance of a softshell garment is also significantly affected by the materials underneath it. For layering, we recommend only materials that move the body's moisture forward while being quick-drying at the same time. So try to avoid, for example, a cotton shirt, which instead of breathing absorbs moisture and dries slowly. Some natural fibers, such as merino wool, also work as the bottom layer with technical outdoor clothing. In Halti's selection you can find both technical and merino wool base layers as well as technical shirts and intermediate jackets.
We understand your challenges. The choice is certainly not easy when there are many options. The most significant differences between shell clothing and softshell clothing are in waterproofness, breathability, and flexibility. Compared to a shell garment, a softshell garment is much more breathable and flexible, i.e. it enables a greater range of motion and keeps a dry feeling. On the other hand, shell clothing protects very well from wind and especially water, and softshell clothing cannot compete in these features. Nowadays, there is also a lot of so-called hybrid clothing available, which includes both softshell and waterproof parts.

Pros and cons of a softshell jacket:
+ extremely breathable and flexible
+ very good weather and wear resistance compared to its material
- is not windproof or waterproof

The pros and cons of the shell jacket:
+ protects against wind and water, while being as breathable as possible
- not as breathable and flexible