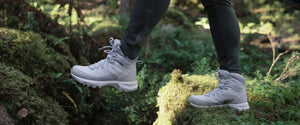 Get to know our Footwear collection
Our collection includes a wide range of outdoor shoes to complete your outfit and so you can enjoy the outdoors around the year, in any weather. From warm winter boots to waterproof outdoor shoes, spike shoes, friction sole shoes, or light summer shoes like sandals or sneakers - we got you! Just like our apparel collection, the footwear collection includes shoes for hiking & trekking, and everyday use as well as shoes for snowy or wet conditions.
In this blog, we've gathered FAQs about our footwear collection to help you with any questions you have about our shoes.
There are of course, differences between the lasts, but we do not use the extra wide last at Halti. Halti's basic last is spacious at the instep, and all the lasts we use are round and wide at the tip, so that there is room for the toes.
The recommendation is 5-10mm for adults and 10-15mm for children. It is good to have more room in winter shoes and hiking shoes than, for example, in running shoes, because the toes need to be able to move, and on a long hike, the feet swell a little. The shoes should be bought, or at least fitted, in the afternoon, when the feet have already been 'in use'!
Sure, you can walk on asphalt, but they don't offer the same traction on asphalt, and the shoes wear out faster. Studded soles can be compared well to car studded tires: the grip is good on ice and snow, but not on asphalt. And if you drive a lot on asphalt, the studs wear out quickly and also come off. They are not intended for asphalt surfaces. How much or how quickly the studs wear, therefore, depends entirely on the use.
Half sizes are not normally used in European numbering (Paris point). The difference between the two sizes is about 6-7mm, depending on the series. In American and UK numbering, halves are used because the difference between the two sizes is 8-10mm. If you see that half numbering is used in the EU markings, it is because the last is serialized according to the US size, and then converted to correspond to the closest possible EU size.
Our factories are located in China, Bangladesh, Vietnam, Romania, and Portugal. All factories in the Far East are audited and BSCI approved. Halti also has a strict Code of Conduct, with which we ensure that the rights of employees are not oppressed. Different factories have different capabilities to make different shoes, and the Country of Production is determined accordingly.
For sure! How to wash them depends on the materials. Many summer shoes made with light textiles are machine washable nowadays, but they must always be washed separately, in a short program, and at a low temperature. And dried in room heat in a well-ventilated space. Leather shoes should be washed by hand with soap and a sponge intended for leather. In most cases, it is enough for leather shoes to brush loose sand off the surface and wipe the surface with a damp rag. Waterproof textile shoes should be washed by hand, and take into account that they take a long time to dry.
All DrymaxX shoes are made with the same sock construction, i.e. the lining fabric laminated with a waterproof membrane is sewn into a sock, and the seams are taped with waterproof tape. This prevents water from entering the shoe but does not prevent the upper textile from getting wet. Since the membrane is on the inside, it does not wear out in use, and its waterproofness cannot be measured in pillars. The membrane itself holds 100% water. In those cases, when the membrane or taping has managed to tear, the shoe leaks. It usually requires some physical trauma, and the leak is localized to a certain spot. The membrane does not wear out over time.
The DrymaxX membrane itself breathes, i.e. lets air molecules through. As a whole, the upper materials and fillers affect the breathability of the shoe. The DrymaxX membrane works on the principle of osmosis and is usually combined with a moisture-wicking textile lining. However, choosing the wrong sock can destroy the membrane's functionality; cotton and wool, for example, are fibers so absorbent that they do not allow moisture to evaporate, but absorb all the moisture into themselves, resulting in wet and cold feet.
Different outsoles are recommended for different kinds of surfaces and intended use. In outdoor shoes, the sole is designed specifically for walking on varying surfaces. Rubber is the most durable of the materials, but there are also big differences between rubbers: the softer, the more durable, but the harder, the more durable. It is important to find a golden middle, where the rubber is soft enough to give a good grip, but hard enough to last as long as possible. The same applies to shoe soles as to car tires, i.e. soft rubber wears out faster, and even faster at higher temperatures. Just like in tires, the pattern is also important in soles: in hiking shoes, the pattern is designed for loose and uneven terrain, and in running shoes for flat hard surfaces, etc.
This of course depends on the winter, the use, and the user. Many things affect the feeling of cold, one of them is the physiological differences of people, which is such a large changing factor that fact-based research is difficult to do on a general level. Of course, shoes can be compared to each other under the same conditions, and it can be concluded that one is warmer than the other. Halti basic outdoor shoes are intended for active use, they do not have a warming upper, nor a sole designed for snow or ice. But if you walk mostly on plowed roads, the shoes are roomy enough, and you wear the right kind of socks, then Fara, for example, will get through the winter in southern Finland very well. For winter and cold, however, there are specially designed shoes that are more suitable for them..
HISTORY OF HALTI SHOES
DID YOU KNOW?
Halti began making camping gear industrially in 1976.
Halti launched the first shoes already in 1977 - they were leather hiking boots with Vibram rubber soles.
More from the Halti World blog: View all