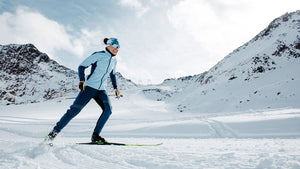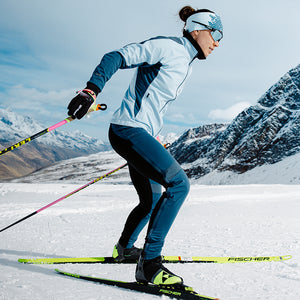 Women's cross-country ski clothing
---
Halti's cross-country ski clothes bring joy all winter.
Looking for a new cross-country ski jacket or cross-country ski pants? Maybe both? Explore the wide selection of women's cross-country ski clothing.
Halti's cross-country ski clothes are produced respecting people and nature and they feel comfortable to wear while looking awesome. The carefully considered designs and features will help you reach your best performance level when you need it. The cross-country ski clothes combine weather protection and breathability: the windproof and waterproof parts are designed in the most optimal areas for your comfort while skiing.
When choosing a cross-country ski jacket, we recommend thinking about what kind of weather conditions the jacket will be used in. In addition, it is good to think about what kind of features you need most. Our versatile collection includes different women's jackets for different users and purposes. Warmer and lightly padded cross-country ski jackets are suitable for colder weather and for users who need additional warmth. The lighter jackets are suitable for skiers who need less warmth and ski with a higher heart rate and faster pace. Depending on your needs, combine the cross-country ski jacket with suitable cross-country ski pants.
In order for your ski jacket and pants to give the user the best possible skiing experience, it needs a suitable base layer underneath. Both technical base layers and merino wool base layers are suitable for cross-country skiing. A long time favorite, the padded skirt, is a great way to get extra warmth for the lower body.
Don't forget the accessories - the hat and gloves are extremely important for the performance. In cold winters, a woolen knitted ski beanie with windproof material is the best option. During the spring, a technical collar is a nice option.
Due to their technical features, cross-country ski clothing is also great for many other sports, for example winter jogging or other active outdoor activities. Halti's cross-country ski clothing is manufactured in accordance with the principles of sustainable development. Halti's cross-country ski clothes contain more and more recycled materials. Halti's waterproof materials are always PFC-free.
Invest in yourself and choose a long-lasting cross-country ski jacket and ski pants that suit your needs now from Halti! 
FAQs about Halti's women's Nordic ski collection
The most important thing when choosing cross-country ski clothes is that the clothes are comfortable. For this, it is good to consider, for example, in what kind of weather conditions and at what kind of heart rate you will move. We recommend warmer ski clothes for freezing temperatures or for skiing at a slower pace. On the other hand, lighter ski jackets and pants are sufficient for milder weather or for moving with a higher heart rate.

It's good to note that in order for cross-country ski clothing to work, it needs the right kind of base layers underneath. These include technical Active Dry base layers and merino wool base layers made from natural materials.

Also, don't forget accessories suitable for skiing.

Read our guide on choosing the right outfit for cross-country skiing.
We use a lot of weatherproof materials in Halti's cross-country ski clothes, but they can't be called waterproof because they're not completely made from the same weatherproof fabric. Nordic ski clothing is very often a combination of several materials, some of which are meant to protect the skier from wind, water, and snow, while others are meant to let the heat produced by the body out.

Find the breathability and waterproof values ​​of the cross-country ski clothes in the material information of each product.
Choose the right clothing for your cross-country/Nordic ski needs based on the intensity of the workout and the weather conditions. It is important that you are able to move in a comfortable way and that you will stay warm. For active workouts and active skiing we recommend choosing breathable materials. Read the guide to choosing cross-country ski clothing.
Yes! As a general rule, cross-country ski clothes are always very windproof. Halti's cross-country ski clothes are made with windproof Stormwall® material, which is also often waterproof at the same time.

However, it should be noted that wind protection might not absolute be in all parts of the clothes, because for the best fit and a comfortable feel different materials are used in cross-country ski clothing.
Yes, of course! Cross-country ski clothes are particularly versatile and can be used not only for skiing but also for jogging or any other active outdoor activities. Nordic ski clothes are a perfect combination of wind and waterproof and breathable materials.
From Halti's cross-country ski collection you will find clothing for women, men, and kids. Explore the cross-country ski jackets, pants, and accessories. Selected cross-country ski styles are also available for women in Plus Sizes.
The cut of Nordic/cross-country ski clothes designed for active and fitness skiing is more narrow/tight so that wind resistance is as small as possible and movement is thus smoother.
Our delivery time depends on the region. The standard delivery time in Europe is 7-14 working days. All Halti orders are shipped from our warehouse in Finland. Our logistics partner for international orders from halti.com is Xtreme Global.
You have the right to return your order within 28 days of ordering. We will refund the order once the products are returned to our warehouse and the refund may take up to 21 days. Read the full instructions for returns here.
Halt's customer service helps our customers with all kinds issues with of orders, deliveries, and products on weekdays between 9:00 and 15:00 (UTC+3). You can contact us by email at info@halti.fi 
Women's Nordic ski jackets
Find your favorites from our women's Nordic ski jackets in nature-inspired colors!
SHOP NOW
Women's Nordic ski pants
Women's Nordic ski pants for all skiers, from beginners to professionals.
SHOP NOW
Plus Size Nordic ski clothing
Explore the Nordic ski clothing in Plus Sizes. Available for women in sizes from 38+ to 50+.
SHOP NOW